..........................
.........................
The worst E-Fit ever?
According to
Sky News
this E-Fit sketch, which actually led to the arrest of a man who murdered a Bolivian taxi driver, was the 'World's worst E-Fit sketch.'
However, I really think that honour must go to the one and only... 'Eggman,' the first sketch of a suspect in the Madeleine McCann case, which was created based on a description by Jane Tanner and shown to amazed, and probably amused, residents of Praia da Luz.

Eggman, seen here making his getaway in a chauffeur-driven vehicle, is obviously a man of means and definitely, I would say, not the raggle-taggle gypsy fingered by Raymond Hewlett's son Wayne. Wayne Hewlett claims that his convicted paedophile father, Raymond, sent him a letter from his deathbed, detailing a dastardly plot by a band of gypsies to steal children to order for wealthy couples.


Lettuce-Man is definitely a contender for the title of worst E-Fit, but I guess he's at least got a face and looks like a human being. Wanted by Hampshire police in relation to the theft of £60 from an elderly woman.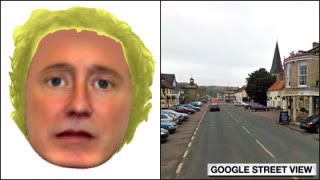 And now a reprise of just some of the men and women, implicated as suspects in the Madeleine McCann case. That 'World's worst E-Fit,' may have been pretty hilarious, but at least it was the only E-Fit in the case of the murder of the Bolivian taxi driver and at least it did lead to an arrest. Those sharp-eyed citizens of the world, for Maddie has been seen on all five continents, have a wonderful range of suspects to choose from. Is it your husband, brother, sister, son, daughter, or your long-dead Uncle Fred? Why not grass'em up? You too could get your five minutes of fame with the Daily Mail:

"Woman states that her long-dead Uncle Fred came from the grave to snatch Maddie. 'It's not about the money they paid me,' she said, 'He always liked little blonde girls and it's time he was put behind bars. It's just another one of his excuses that he's dead

.'

Pick a suspect, any suspect!





Then, of course, there's this man!
A very dodgy-looking geeza!